Hypnoke International are suppliers of high quality
audio recording equipment to hypnotherapists and trainers.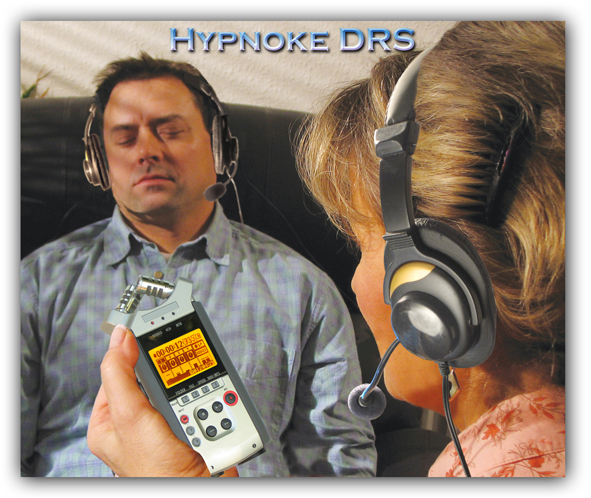 Hypnoke DRS (Digital Recording System)

The ultimate, professional recording kit for therapists who want to record their client sessions and add background music at the same time. Please listen to DRS MP3 sample.

Hypnoke Digital Recording System is a complete mixing and recording system in your hand. There are 4 separate tracks for you to record onto. For example, your voice on track 1, sound effects on track 2, music on tracks 3+4. You can also add echo or reverb to your voice for extra effect.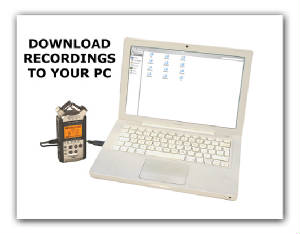 Everything you have recorded (voice + music + sound effects) can then be downloaded (no software required) onto your PC or Mac for burning to CD.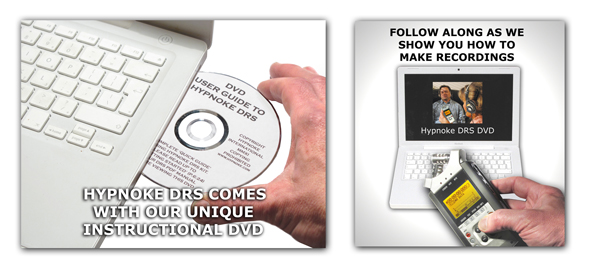 Hypnoke DRS comes with our unique DVD Quick Guide. You can follow along as it takes you through setting up and making recordings.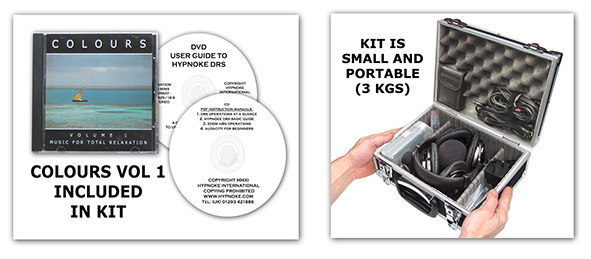 Hypnoke DRS is small, light weight (3 kgs), portable and comes with a 1 year guarantee. It runs on mains (worldwide voltage) or batteries. The kit contains Hypnoke Digital Recorder, 2 pairs of high quality headsets with microphones attached (so you can speak 'hands free'), 3m headset extension cables, a microphone stand, 4 x AA alkaline batteries, AC adapter, 2 GB SD card, USB cable, windshield, Colours Vol 1 with music licence (worth £34.99 on it's own), DRS DVD Quick Guide (worth £30) and pdf manuals.

Price is £497.00 including free delivery within the UK (excluding Northern Ireland). Buy Colours Vol.2 with music licence included in the kit for an extra £25.00 (normally £34.99). Call us today. Please note prices shown are for payment by UK debit card. Credit cards will incur an extra charge.